Dog Boots are an important accessory for the dog about town, the extreme outdoors dog or even just to protect an injured paw from licking and infection. Boots can protect from urban streets where all manor of sharp objects or chemicals are laying around, or the extreme off the beaten path and trails with mud and sharp rocks that can injure your pets paws.
Designed for active hard charging dogs. For hunters, urban settings on asphalt or concrete, snow, and protection from salt in the winter.
---

These high-traction, ergonomically-molded all-terrain boots are designed to keep your dog's feet safe from hazards while ensuring a sure-footing.
---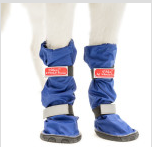 Provides year round comfort protecting against temperature extremes and rough surfaces while keeping paws clean and dry to assist with wound care. Comfortable and stylish, with velcro straps for a good fit.
---
Our anti-slip Sport PAWksTM are for indoor and outdoor wear, providing traction, comfort and protection for your dog's paws. Cozy and adorable. They come in sets of four.
The Wound Boot is a breathable boot with elastic sides to cover a bandage or cast if needed. It protects the wound area while healing and restricts licking or chewing at wounds.